SLICES OF A LIFE
Seven decades of images by Teekay
Aircraft and Flying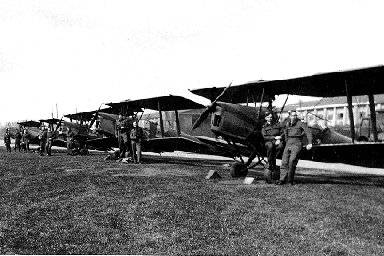 No, this was not taken in France during WWI, but just after WWII, showing Tiger Moths of Nottingham University Air Squadron at RAF Hucknall.
My first flight, as an Air Cadet during the war, had been in a Horsa glider towed behind an ancient Whitley bomber. Sitting beside the glider's huge open door on a hot and bumpy summer day, most got sick, but I got hooked.
First solo was in a Slingsby Cadet glider, but it was on the grass airfield at Hucknall that I first flew a "real" aircraft - a Tiger Moth. Like most pilots, I vividly remember every detail of that first solo, including a too-low final approach, almost flying through some treetops.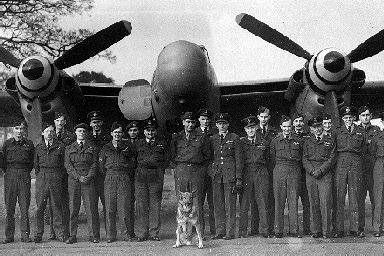 By the early 1950's I was flying larger aircraft - Mosquito NF36 night-fighters with RAF 264 Squadron. In this 1951 portrait of the officers and aircrew of 264 Sqn., some were cropped out to make the image fit.
I had dreamed of becoming a fighter pilot ever since when a boy I saw one of the first Spitfires streak overhead at a pre-war airshow. The announcer excitedy said it was doing 360 m.p.h!- listen to the sound of a Spit flypast.
Mosquitoes were famous WWII aircraft but by the 1950's the night fighter versions were getting rather clapped out. Heavily laden with radar gear, they were getting harder to fly and maintain - maybe the wood was getting waterlogged - and single-engine performance was poor. We had quite a few engine failures and accidents. Click here for the wonderful roar of two Merlins in a Mosquito flypast
This was the time of the Cold War, and people were fairly paranoid. There was a period when several aircraft from 264 Squadron and others were kept on alert every night. We scrambled to investigate "bogeys" - the Russians were coming - with a full wartime load of ammunition in great secrecy.


The first jet nighfighters arrived in the RAF in the early '50s, and it was a big day when 264 Squadron finally traded in their aged Mosquitos for the new Meteor NF11. Primitive by today's standards, with no ejection seats and mediocre performance, they nevertheless had a long service life.
Amazingly, one of the actual aircraft I flew almost 50 years ago, Meteor NF11 WD592, has survived. After nightfighter life, it served as a target tug in the Royal Navy, then flew in civilian colors at Mohave. Flying days over, it now sits in distinguished company at the AFFTC Museum, Edwards AFB, California - a long journey in every way from its heyday with 264 Squadron in Yorkshire, England.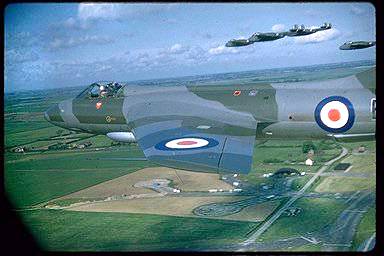 Photo taken from the back seat of a Meteor T7 at RAF Leconfield, the Fighter Weapons School. Here, a Hunter is in fast, low formation with some Vampires, practicing for some ceremonial occasion. A wartime dispersal area can be seen below, now used to park overflow trailer housing. Click for the sound of a single Vampire flypast.
On the Trials Flight at FWS, we flew a mixed bunch of aircraft, including the ones shown and the Meteor F8, my favourite ride for solo aerobatic displays on Battle of Britain Days. There were even a few Spitfires, and a queue of pilots waiting their turn to get checked out to fly them. To my lasting regret, these Spits all got sold or sent to the scrap heap just before my turn came around.We also had an F86 Sabre in which I exceeded Mach 1 for the first time.That needed a vertical dive at full throttle, which was against normal flying instincts.
Click here for some good photos of a Venom crash!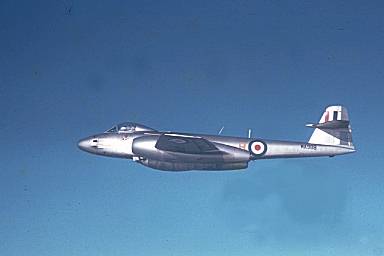 Meteor 8 "B for Baker" (this was before the alphabet changed B to "Bravo") of Trials Flight, RAF Leconfield in 1955.
I flew many hours both on this type and this individual aircraft, used as workhorse for a wide variety of trials.
Click for the sound of a Meteor flypast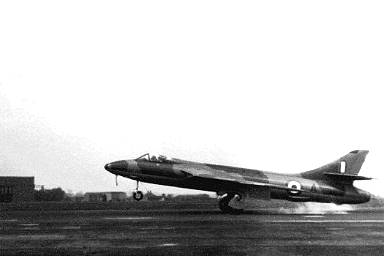 I can't remember who took this photo of a Hunter at Leconfield in the 50's but I'm glad it looks like a smooth landing because that's me in the cockpit.
The Hunter, one of two on our Trials Flight, was by far the fastest aircraft I had flown. We were firing its 30mm Aden cannons on trials before most of the operational squadrons were allowed to, because a fault in the design sometimes caused the engine to flame out when the guns were fired - not a good thing.
Click for the sound of a Hunter taking off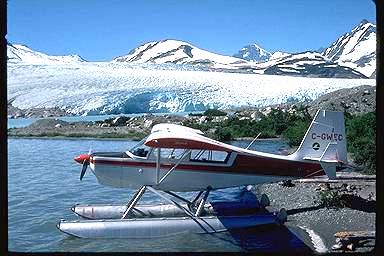 This little Bellanca Scout floatplane could get into almost anywhere, particularly with only myself on board. On this beautiful day in August 1977, I had taken off from Ocean Falls to do some exploring, and found Ape Lake.
High up in the Central BC coast mountains, it sits in a spectacular setting of rock peaks and ice.
A year or so after my visit, the glacial ice dam at one end of the lake gave way and the whole lake roared miles down the steep valley to the ocean in a matter of minutes. Luckily, nobody was up there at the time.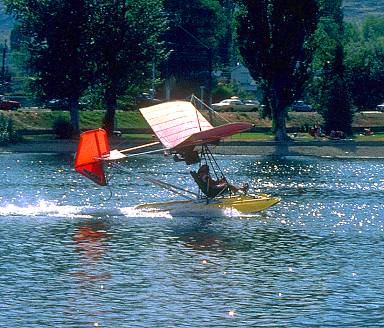 This dual-control Wizard ultralight on floats was the last aircraft I piloted before hanging up my licence, and it nearly killed me.
While driving through Osoyoos one summer in the '80s I paid for a joyride off the beach since I had never flown an ultralight before. It had dual controls and after I handled the landing OK the pilot/owner offered me a job since he also owned the resort and was overworked. It looked like fun so I accepted.
But the Wizard just couldn't cope with 12-hour, 100-degree days and take-offs every 20 minutes - neither could I. After two engine failures and one in-flight structural failure in four days I got the message - time to quit!

---
Comments welcomed! Email me at

Click here for my home page - "Slices of a Life - Seven decades of images by Teekay"
---
All images are Copyright © 2004 Teekay and may not be reproduced without permission